Fantasy Sports software
To launch a fantasy sports app, extensive experience is required. To have a fine app, you need to hire a mobile app development company but it's gonna be really expensive or integrate ready-made solution. For integration, it would be best if you search about it on the following criteria such as:
Provider's experience
Tools & technologies
Time duration to complete the project
Cost to launch a product
What are the must-have features?
The success of every app depends on the features and functionalities that an app offers. The features can be divided into user panel features, admin panel features, and additional features. The fantasy sports provider you have choose must have ample experience in implementing these.
For user
Login / Signup
There are various ways of logging in/signups, such as via phone number and email id
Lobby
It is one of the vital features that every app must-have. Here a user must see all the contests, leagues, and other information such as upcoming events, offers, etc.
Profile Setting
With the help of this option, users will have full control over their profiles. They can add, remove or modify their details.
My Team
It allows users to choose the players for team formation. Here users will also get the real-time statistics of the players.
Join Contest
Under this tab user is allowed to join the ongoing & upcoming contests.
Leaderboard
Showcase the games won & lost and the user's earnings.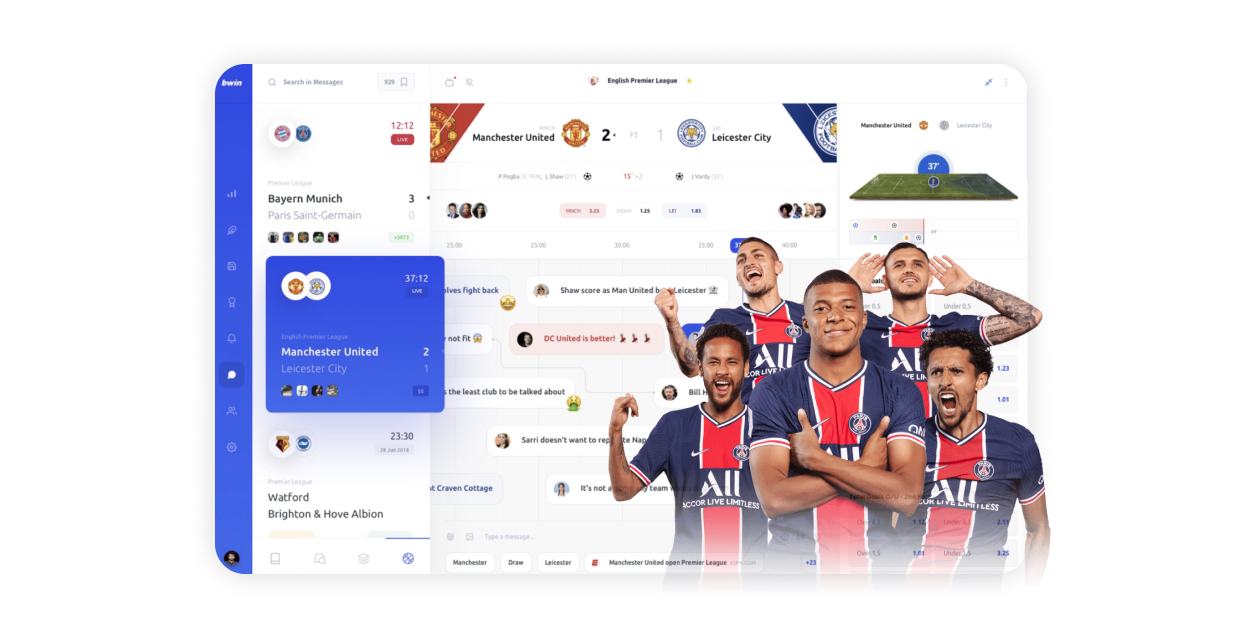 For admin
Dashboard
Allows admin to have complete control over the app, including user's activity, contest planning, generated revenue, cash award distributed to the users, and many other options.
Account Management
The admin can remove and add the user accounts, user restrictions, user profile control, and other tasks related to the account management.
Results
Via this option, the administrator can have the full report about who won and lost the game, how many points an individual user earned.
Payment
Under this section, transaction management takes place. It showcases the total revenue generated and cash prize distributed to the users.
Push-Notification
Admin can send a push notification, real-time alerts, messages, and emails to inform the users of upcoming events.

Note:  There is tough competition in the market, and several fantasy sports apps are available, so including some additional features will be advantageous.
Additional Features
Different formats of games
Social Media Sharing
Live score & statistics
Live match streaming
Multiple payment modes
Analytics
Bonuses
Referral links
For system
Easy integration
Responsive design
Latest technologies
Customizations opportunities
Adapted for high volumes
What else your supplier should provide you with?
Not only mobile app but also website
Having a web and mobile platform presence is the finest strategy followed by every successful fantasy sports app. The website will handle the informatory part where users can get full information about the app, and for gameplay, they have to install the app on their mobile. Having a website will also generate trust among users.
Design that users love
When you create fantasy app, keep in mind that data is imperative. It's not like a video game where the user presses the key faster to win. Users playing fantasy sports are more calculative and demand data such as performance score, player data, etc. Therefore, your focus should be on designing an app that makes this analysis of data easier. From user profile to scoreboard, make sure the information is easy to access and there is less clutter. This brings us to having a minimal UI to have a maximum impact.
Monetization strategies
Are you searching for how to earn money from a fantasy sports app or how to make money from a fantasy sports business with the help of mobile app? Then you need to decide about the monetization model.
The monetization can be done in the following ways:
In-App Advertising
Here, you can allow third parties to display their ads in the form of infographics, animations, or video forms by charging them an advertising fee.
Pay Per Game
Here, users have to pay only for that game they are interested in. Another version can be that users can also pay per league to enjoy the game.
Subscription Based
For a particular time duration, users have to purchase a subscription plan. You can divide it into quarterly, half-yearly, and yearly subscription plans. So, the users can choose accordingly.
By now you have enough information to get started. We can help you work on your idea. Our process typically includes – analysis phase where we research and understand the scope of your project. After preparing the initial app flow, we move on to the integration phase. After integration, when our QA team is confident that the system is all-ready without any glitches, we hand it over to you. Our experts can help you promote your app and reach the right audience.